17 year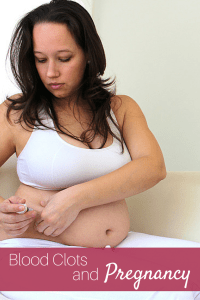 s ago, I had a pulmonary embolism. I was lucky. I survived. But my world forever changed.
I can't take a road trip or get on a plane without worrying about a blood clot (thrombosis). There are certain medications that I simply cannot take anymore. Even a broken ankle a few months ago had me worried since my ankle was immobilized. It's always in the back of my mind. And when I was pregnant with my twins, I learned how to give myself daily injections of a blood thinner since pregnancy increases the chance developing blood clots.
Today (October 13th) is World Thrombosis Day. Even though my pulmonary embolism wasn't related to pregnancy, I want to focus on the risks of developing blood clots during pregnancy and what we can do prevent them….