Admit it. You k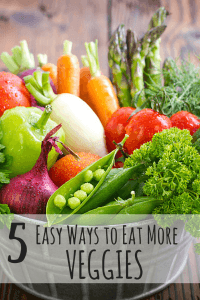 now you need to eat more veggies. They're good for you and can help improve your health in SO many ways. But, it's hard sometimes to make yourself eat more vegetables, especially when the ice cream, pasta, muffins, and other processed carbs seem to be calling your name!
Even as a dietitian, it's something I struggle with too…every single day.  Here are 5 easy ways to eat more vegetables that I've come up with to add more veggies to my diet.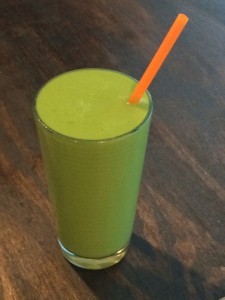 Green smoothies. Adding spinach to a smoothie adds nutrition without changing the taste! And smoothies are usually a great way to get in some fruit too. One of my favorite smoothie recipes is 1 cup almond milk, frozen pineapple, protein powder, a handful or two of fresh spinach leaves, and a few ice cubes. (I think I filled the glass a little too full!)
Include 1-2 servings of vegetables at breakfast. For me, if I start the day out healthy, I have a much better chance of making healthy choices throughout the day. I love making egg scrambles with a variety of veggies that I have on hand and a few eggs. As an added bonus, egg scrambles tend to help me stay full for longer since they're packed with protein too.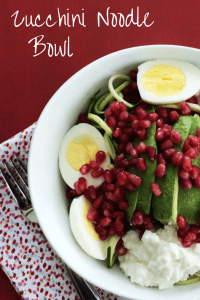 Zucchini "pasta." This isn't really pasta.  It's zucchini that's been spiralized using a veggie spiralizer. If you haven't used a spiralizer yet…prepare to be AMAZED! It turns vegetables (zucchini in this case) into a healthy and delicious substitute for pasta at just a fraction of the calories and carbs. In this bowl, I spiralized a couple zucchini and added avocado, hard-boiled eggs, cottage cheese, and pomegranate seeds. It was super quick to make, and I was able to add more vegetables to my day!
Low sodium vegetable juice. Although I would generally advise someone to eat their calories versus drinking them, if you are having trouble getting in enough veggies in your diet, low sodium vegetable juice can help. I came across a 2010 study that caught my attention recently. The study was funded by Campbell Soup Company, the company that makes V8 vegetable juice. However, there are some interesting things in there that I think are worth pointing out. In the study, patients with metabolic syndrome (average age = 50) added vegetable juice to a DASH (Dietary Approaches to Stop Hypertension) diet. The researchers found that adding the low sodium vegetable juice helped the study participants eat the recommended # servings of vegetables per day compared with the subjects who were also following the DASH diet but weren't told to add the vegetable juice. The vegetable juice group also improved their intake of Vitamin C and potassium. Since this study was performed on a specific subject group, I can't say for certain whether the results would hold true for other groups. However, if you're having trouble getting in enough servings of vegetables, it might be worth considering adding in a glass of low sodium vegetable juice.
Include a side salad with dinner. The obvious reason here is that it adds another serving of veggies to your day. However, it also forces you to take a little longer to eat dinner. This give your brain a little more time to realize that you're full, and it just might help you eat less too.
Do you have trouble eating enough veggies? What suggestions do you have for getting them in? Let me know in the comments!