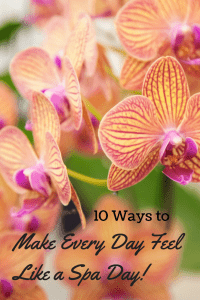 I love taking vacations, but it seems like the moment the vacation is over, the stress of everyday life resumes too.  Whether it was a trip to spa, a babymoon, or a European vacation, I'm always searching for ways to reduce the stress in my life and try to incorporate that "vacation feel."
I put together a list of 10 small changes you can make to help create a few spa moments in your everyday life.
10 Ways to Reduce Stress and "Bring the Spa Home"
Comfy robe & slippers:  One of my favorite parts of a spa visit is the awesome robe they you get to wear.  It just feels luxurious from the moment you slip it on.  Wearing a soft plush robe at home is a great way to create a little "me time," especially when you combine it with some of the other items in this list.
Add fruit & veggie slices to your water:  Fruits & veggies add a hint of flavor to your water in addition to making it bright & colorful.  It doesn't take long, but it can make a glass of water a little extra special.  And if it helps you to drink more water, it's worth it!
Herbal tea:  Herbal tea is another way to drink more water during the day, and it's naturally caffeine free.  Try it hot or iced!
Journal:  Taking time to journal can help you feel more focused and relaxed.  It allows you to process the day and just feel more centered.  It can also give you the opportunity to see things from a new perspective.
Scented candles & lotions:  Scents can be very powerful, and I'm not even talking about aromatherapy.  Sometimes scents can trigger memories, and using them after the vacation can serve as a reminder.  We went to Hawaii on our honeymoon, and I bought a Coco Mango body lotion from the hotel spa.  It smelled amazing, and it reminded me of being in Hawaii!
Vacation recipes:  I'll admit it…I love cookbooks!  And it's not hard to convince me that I NEED another cookbook.  But it's really fun to buy a cookbook from a vacation and then make something at home from the cookbook.  One of my favorite getaways is the Sundara Inn & Spa in Wisconsin.  It's an easy drive for me, and it's an awesome midwest escape!  I was really excited when they came out with a cookbook (affiliate link)!
Eat more fruits & veggies:  I'm not going to go into all the health benefits of why eating more fruits & vegetable is a good idea right now, but increasing the number of servings of fruit & vegetable you eat per day can be a huge step towards improving your health.  To name just a few, it can help with weight management, digestive health, and disease prevention.  Try to find new vegetables or cook them in a way that's new for you.  Incorporate vegetables into meals that typically don't include vegetables such as breakfast.  It's a heathy step, and you'll feel good about it too.
Make your bed a really comfy place:  There is a link between stress and lack of sleep.  It's more of a cycle that can be hard to break.  However, getting enough sleep can be a key way to reduce your overall stress level.  Making your bed really comfy isn't going to work by itself.  You also have to make getting enough sleep a priority.  Reducing stress is only one reason why getting enough sleep is good for you.  Getting enough sleep can also improve your health, make it easier to manage your weight, and help you think more clearly.  There's a reason why kids are told to get a good night's sleep before a standardized test.
Get more in touch with nature around you:  Spas do a great job at integrating nature into their products, services, and environment.  Take some time to find ways to bring nature into your life at home too.  Listen to a nature sounds CD.  Go for a nature walk.  Carry a blanket in your car so that you can have an impromptu picnic or break in the sunshine.  Plant a garden (indoors or outdoors).  Use flowers as a way to bring the outdoors inside and add a splash of color at the same time!
Take care of your skin:  Take 15 minutes out of your evening and put on a face mask.  Let it sit for 15 minutes before washing it off.  Giving yourself the 15-minute timeout can be a wonderful little escape, and you're treating your skin as well.